Mariposa Farms and Ranches
Farm to Fork Meals
---
---
Farm to Fork Brunch, Raw Roots Farm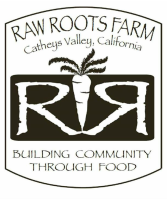 The 2017 Farm and Ranch tour is once again pleased to be promoting a farm to fork meal at Raw Roots Farm. Last year many people gathered on the deck at the farm for a great brunch and catching up with friends. So many in fact that we ran out of tickets!
So gather your friends and get your tickets today!!
Ticket sales are now closed!! Thank you for your interest!!
Serving:
Yummy Greek or Denver quiche from High Country Cafe
Fruit and Green Salad
Bagels from the Bagel Lady
Coffee and infused water
Brunch Prepared by High Country Cafe
Fresh – Farm Raised – Organic Products
If you would like Gluten Free just ask
The Bagels Created by The Bagel Lady – Heather Barrett
Locally Roasted Coffee Donated by Pony Expresso
Driving directions
From Mariposa, go west on Hwy 140 towards Merced. Turn left on School House Road. Turn right on Owens Creek Road. Third driveway on the left with white fence is Raw Roots.